Hatfields and McCoys
Click here to listen to audio
            The HATFIELDS and McCOYS

CHARLIE McCOY and VINCE HATFIELD

  The HATFIELDS and McCOYS
  duet by: Charlie McCoy and Vince Hatfield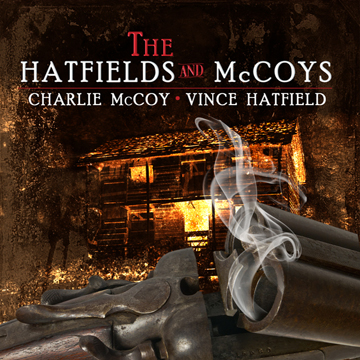 The Hatfields and McCoys . . .
Charlie McCoy a Grammy winner, member of the Country Music Hall of Fame and most respected session player in Nashville, TN he has become a fixture in recording studios for over 48 years, has recorded 35 solo albums and served as music director for the syndicated television series, "Hee Haw.
He has played on records from Roy Orbison to Elvis Presley, Ronnie Milsap, Barbara Mandrel, Simon and Garfunkel, Bob Dylan and on many hits from genres other than country. He continues to release new albums and record with artist today along with touring all over Europe and the United States.
Vince Hatfield New Music Weekly "Break Out Artist and Country Male Artist. Has had over 35 charted records, several #1. With the challenges of his oil career and music career, Vince still makes time for his other passions, such as hunting and fishing. He also takes the time to give the rest of us some great music.
.