World Goes Round
VINCE HATFIELD

WORLD GOES ROUND

Click here to listen to audio preview: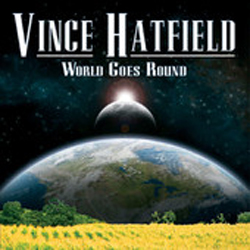 Blue Moon Records is pleased to announce the release of Vince Hatfield's latest single, "World Goes Round" Recorded by Vince at Sound Emporium (Nashville, Tenn), the song was written by hit-makers Wynn Varble ("Have You Forgotten," "Waitin' On a Woman," "I'm A Little More Country") and Phil O'Donnell. Vince's new single was produced by Grammy-nominated, Eric Paul (Townes Van Zandt Poet: A Tribute to Townes Van Zandt).
Hatfield's traditional country voice suits this song to a "T."
Eric Paul, a long-time friend and collaborator of Hatfield's, was excited to produce "World Goes Round." Paul's lengthy career as as engineer and producer includes working with such legendary artists as Willie Nelson, Billie Joe Shaver, Waylon Jennings, Kris Kristofferson, Kenny Rogers, Eddy Raven, Elton John and more.
"World Goes Round" is a rowdy fun song, delivered beautifully by Vince's voice and singing style with backing track played pefectly by some of Nashville's finest musicians.